Making Changes
Things change over time. Some for the better and some not. Those of you that have been with me from the beginning, you've seen me go through many changes, personally and professionally.
I made those changes to grow and better provide for my family. Sometimes it was an easy decision, while others it was tumultuous and anxiety-ridden.
I made the decision five years ago to become a real estate agent. I wanted the freedom that being my own boss could provide. I also wanted to ability to decide my future.
In the beginning, I had a lot of changes. I was married and decided for my children and myself that it was best we parted ways. Then, to be my authentic self, I came out gay. Something I've known about myself since childhood but was not ready to step into until then.
I started in real estate on a team. After quite a bit of success, I decided that I wanted to be a solo agent. In going this route, I jumped brokerages a few times. Each time, the decision was a hard one but had to be made to grow.
This time, I know that things will be different. I can be my authentic self here at Keller Williams Realty Partners. I'm not worried about coming in heels or a suit. I know my wife can come to the office and be embraced. My clients can come to the office as their authentic selves and feel comfortable in that.
I have struggled to find the support I've needed for myself and my clients in the past. The move to KW is going to open doors to new opportunities for all.
This office provides more in-depth training behind investing. I wanted to be able to provide better all-around services for clients. This training will allow me to help clients that want to get into building wealth for themselves and their future generations.
If you're interested in getting into investing, let's meet up and discuss options!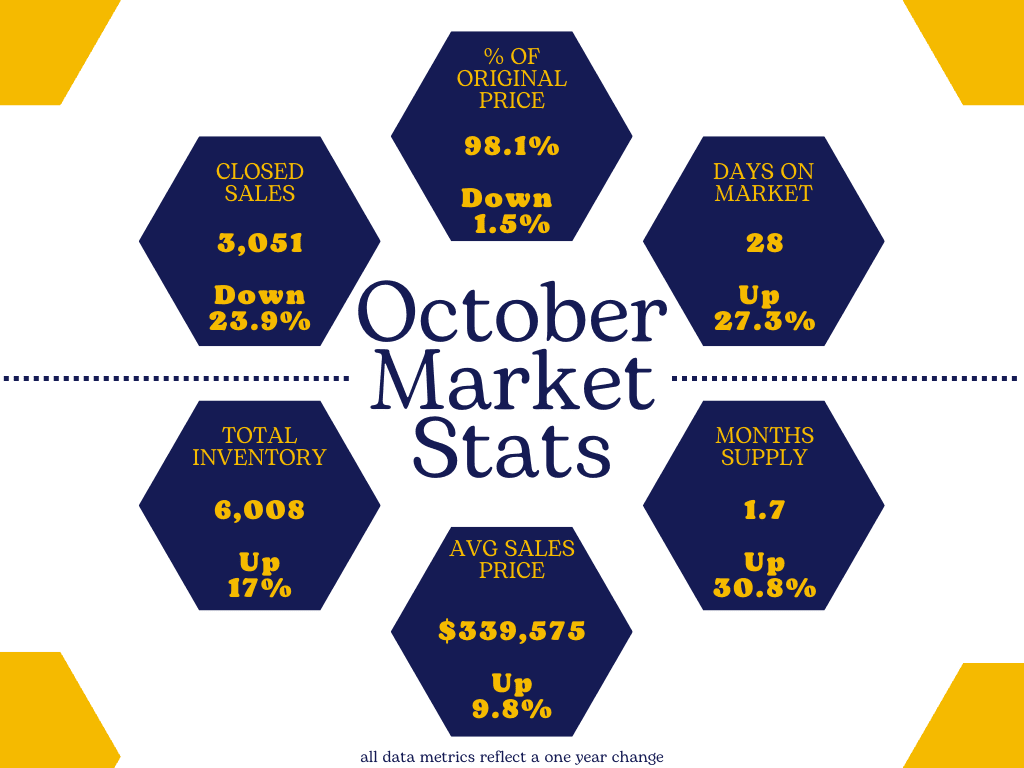 What do these mean for you?
Percentage of the original price received - When a home is listed if the seller got the full asking price, the % would be 100%. 98.1% means that sellers are getting 98.1% of their asking price.
In a market that is shifting, for a seller, this means that it is imperative to price your home right. Looking at homes that have sold in your area in the last two months is going to be different than homes that sold earlier this year or in 2021. We are still getting homes that are priced right with offers in the first few days on market and even multiple offers.
Days on Market - This is how many days between the day the home goes active on the market to the day a contract gets signed for purchase.
This number includes all homes in our market, meaning even the homes that are distressed and need repairs. This is a good thing because it is giving more people the ability to get to your home and make the right decision for moving forward.
Months supply - This is how many months it would take to sell all of the inventory we currently have on the market without adding any more homes.
A seller's market is considered 0-5 months of inventory. A balanced market is 5-7 months of inventory. A buyer's market is 7+ months of inventory. This means we are still in a seller's market currently but are moving towards a more balanced market.
Average sales price - This is the current average sales price of homes in our metro.
With that being said, that does NOT mean there are not beautiful homes above or below this price. The average home price in the U.S. is $454,900. The Kansas City Metro is still a great place to buy a home.
Total Inventory - The number of homes in active status at the end of the month.
Let's break down this number a bit more. The resale amount of inventory is 4,280 up from 4,051 last year at this time. While the new home inventory is 1,728, up from 1,084. We have more new home inventory than resale inventory. This means you can upgrade to a new home and be able to pick your finishes.
Closed Sales - The count of sales closed in that month.
This means that last month there were still over 3,000 homes sold in our metro. Clients are still looking to buy homes.
With all of this said, I want to negate some of the fears that have been put out there. I know the interest rates are higher than they were last year. Last year though, we were taking homes as-is, offering over asking price, appraisal gaps, and no seller credits. Now, you can do an inspection. Which in reality helps the seller and the buyer. This protects both sides from having something come back that wasn't disclosed that can cause an issue later. You're paying true market value for your home and not having to use your cash to cover the appraisal gap. This keeps more money in your pocket. Some homes are even able to have closing costs applied. This covers items such as escrow, insurance, and taxes, which also keeps more cash in your pocket.

We are meeting this Saturday, November 19th, at 10 AM at Brew HaHa Coffeehouse. I'd love to see you, get to know you, and enjoy a hot coffee with you!
We have a ton of local coffee shops in the Kansas City Metro. North of 70+ shops.
To support our local shops as well as meet new friends, there is now a group to try out the new shops around town.
We will be hosting events every other Saturday at different shops around town.
Join the Facebook group to get notified of coffee specials from the shops as well as when the tours are happening.
I would love to see you there!